Like a River Glorious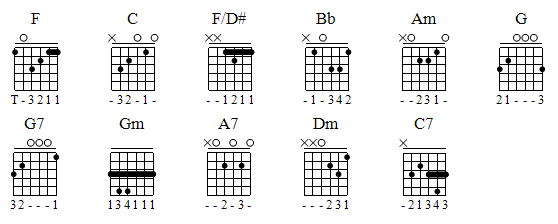 Like a River Glorious
   Words: Frances R. Havergal 1836-1879
   Tune: James Mountain 1844-1933
   Category: Peace and Joy

  F       C      F   F/D#  Bb       C        F
1 Like a  riv-er glo-rious Is God's per-fect peace,
2 Hid-den in the hol-low   Of His   bless-ed hand,
3 Ev-'ry  joy or tri-al    Fall-eth from a  -bome,

  F      Am        F   F/D#  C      G      G7  C
1 O-ver  all vic-  to- rious In its bright in- crease;
2 Nev-er foe can   fol-low,  Nev-er trai-  tor stand;
3 Traced up-on our di- al    By the Sun    of  Love;

  F                Bb   F   Gm      F        C
1 Per-fect, yet it flow-eth Full-er ev-'ry   day,
2 Not a surge of   wor -ry, Not a   shade of care,
3 We may trust Him ful -ly  All for us to    do-

  F        A7        Dm   G7  F         Gm   C7  F
1 Per-fect yet   it  grow-eth Deep- er  all  the way.
2 Not a    blast of  hur -ry  Touch the spir-it  there.
3 They who trust Him whol-ly  Find  Him whol-ly  true.

Chorus

F               Bb Am   Gm         F      C
Stayed up-on Je-ho-vah, Hearts are ful-ly blest-

F         A7    Dm   G7    F        Gm    C7  F
Find-ing, as He prom-ised, Per-fect peace and rest.